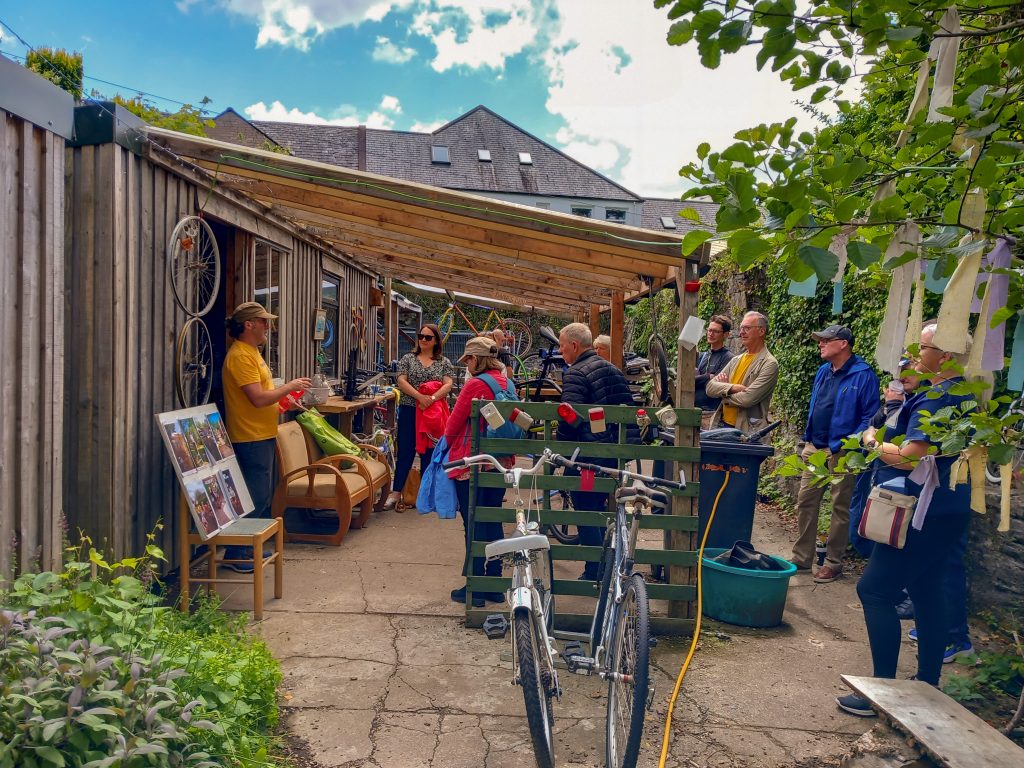 Back when the sky was still blue and the N76 partners were getting ready for a busy summer of activities, the N76 group and guests visited the "Wheels of Fleet" community cycling project in Gatehouse of Fleet. Huge thanks to Thornhill & District Community Transport for getting us there safely.
We were greeted by our host, Danny, and an impressive display of bikes. All bicycles available at Wheels of Fleet are second-hand, donated, and refurbished by their team of expert volunteers. Danny led us through the history of Wheels of Fleet, starting with his own idea to encourage cycling in a cycle-depleted community and leading to the formation of a local identity centred around cycling and community cohesion. After the presentation, the group explored the extensive warren of workshops and bikes, stopping to admire the herb garden along the way.
Wheels of Fleet projects include second-hand sales and hire, e-bikes, led rides and repairs, as well as the all-important bike wash station. During our tour, volunteers were busy fixing bikes and happy cyclists came in and out, pausing to say hello to Danny. Wheels of Fleet is run with affordability and inclusivity in mind, making it a welcoming community hub.
Alongside these projects, the weekly "bike bus" helps Gatehouse residents with the school run, getting children to school without cars and making the journey fun. Danny happily described the chatter and excited atmosphere that follows the bike bus as he and volunteers escort the young cyclists to school.
With appetites worked up for cycling and for lunch, the group crossed the road to Galloway Lodge to enjoy some great food and continue the conversation with Danny. Thanks to Galloway Lodge for fitting us all in!
You can keep up with Wheels of Fleet here.
As part of the N76 project, we are running learning and networking events throughout the year. Over the next few months, other in-person and online events will be announced based on specific aspects of low-carbon transport that interest the N76 partners. To keep up with the N76 project and sign up to our events, follow us on Facebook.