Western Isles Energy in Motion (WIEiM) ran from July 2020 to August 2021 which aimed to raise awareness of sustainable transport opportunities for community organisations in the Western Isles (Outer Hebrides) of Scotland. Community Energy Scotland (CES) provided advice and support services for a variety of community organisations working in the Islands. The project arose following growing interest across Western Isles communities about reducing local transport costs and associated emissions and a growing awareness of support such as funding and advice for community-led sustainable transport projects. The project was funded by Paths for All, The Robertson Trust, The Pebble Trust and Western Isles Development Trust
WIEiM followed on from Uist Energy in Motion, a more localised project delivered in 2019, and focussed delivered in two main ways; firstly, gathering and sharing information about local transport, needs and capacities alongside educating community groups on sustainable transport modes, and secondly, helping community groups to secure funding and develop projects.
In order to inform these activity streams we began by conducting a Baseline Survey with community organisations on their experiences of sustainable transport. Whilst helping to gather information on individual project ideas and targets the survey revealed trends across the Outer Hebrides. Despite having a good general awareness of most sustainable transport modes, respondents had less awareness of purchase and running costs of different modes, funding opportunities and community case studies. These findings were used to inform the development of webinars and workshops and helped to target these resources to the areas of most value to community organisations across the Outer Hebrides.
WIEiM delivered a series of webinars about sustainable transport opportunities, such as e-bikes, electric vehicles and active travel pathways. These workshops took a more detailed look at various aspects or modes of sustainable transport, covering the benefits, considerations, case studies, costs and funding sources for options such as e-bikes, electric vehicles, active travel infrastructure, community transport and mobility hubs. The webinars were well attended at the time and have also served as a useful resource for subsequent inquires as they contain many useful links and pieces of information relevant for community groups.
During this period one to one support was also available for any organisation with sustainable transport interests. The nature of this support varied with organisations levels of experience and interest, sometimes being just an introductory chat and discussion of local transport needs and the various options which might work in a local area, other times groups were provided with specific technical advice or given assistance with funding applications. This service continued throughout the year and connected with groups from Barra, Uist, Harris and Lewis, helping 10 community organisations to succeed in funding applications and bringing over £250,000 of investment in sustainable transport projects to the Outer Hebrides.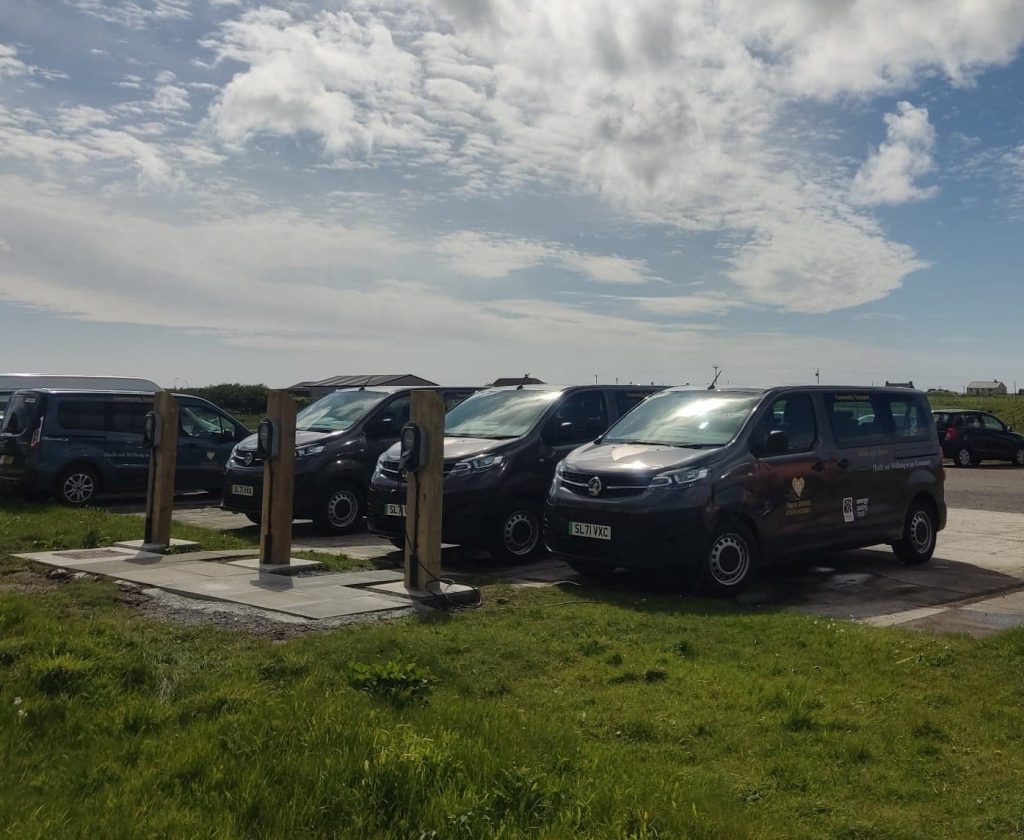 Prior to WIEiM there was only 1 e-bike project operating across the Islands; following the success of the project there are now 5 community groups who have launched, or are launching, their own e-bike sharing schemes all of whom received support through WIEiM. Additionally, projects involving an e-cargo bike, community transport and EV charging have all received support from WIEiM and been launched in the last year.
WIEiM was also an important learning experience for CES in working on sustainable transport and helped build contacts with other organisations working on community sustainable transport. Communities across Scotland are increasingly interested in, and active on, local transport projects and we feel it's important CES can evolve to support such projects. We have transferred many learnings from WIEiM into our Network 76 project in the South West of Scotland which takes a similar approach but builds around an established partnership of 6 community development trusts. Find out more about the project here. We're excited to continue supporting communities with sustainable transport ideas and projects!