Part 1
Earlier this month, the six partners that make up the N76 project, alongside three members of Community Energy Scotland staff – Matthew Logan, Benny Talbot and myself, congregated in person for the first time to officially set the wheels in motion (pun intended!). The project supports communities throughout the Nith Valley region to develop low carbon community transport initiatives. The Keir, Penpont & Tynron Development Trust (KPTDT) dutifully offered to host the day's proceedings at their Three Villages Café in Penpont. The remaining parties descended upon the village from various points along the Nith Valley, including Sanquhar, Kirkconnell & Kelloholm, New Cumnock, Closeburn and Moniave.
Fully caffeinated and comfortably in from the cold, we began with a novel activity I've come to call "Virtue Signals". Aware of its use mainly as a pejorative and keen to reclaim the term for good, the aim of the activity was for each participant to introduce their communities by a virtuous characteristic and to accompany said virtue with a hand gesture or "signal". Resilience, eclecticism, stoicism and creativity were among those mentioned; all of which would inform the discussions to be had later in the day.
With introductions out of the way, we sought to further engage our bodies and minds and set about constructing a "People Map". Imagining the café floor as a map of mainland Scotland (not to scale), participants were tasked with positioning themselves in relation to one another to reflect where they had travelled from to attend the event. We then arranged ourselves in order of shortest to longest journey in terms of both distance and time. This exercise gave us a sense of the geographic scale of the project as well as the disparity between modes of transit and overall journey time.
Feeling suitably energised, we next set aside some time for reflecting on three simple questions – How did we get here? Where are we going? How do we get there? These questions were made deliberately open to try and evoke answers both literal and figurative. Respondents were urged to reflect on not only the modes of transport we used to be there, but also the motivations that lead each of us to join the project; not just the journeys that we make on a regular basis, but the direction that we foresee the project going in; and not simply the forms of future mobility we'd like to see, but the necessary steps we would need to take to achieve those outcomes.
Having plunged the depths of our collective imaginations, we then took some time to review some of the baseline research I had conducted within the first few weeks since assuming my role as project officer. This process allowed me to identify what I perceived as the common desires and interests shared among the partnership, and how that might inform the direction of the project. With that we announced a comfort break, but left the various charts and figures on full display to be mulled over during our down time.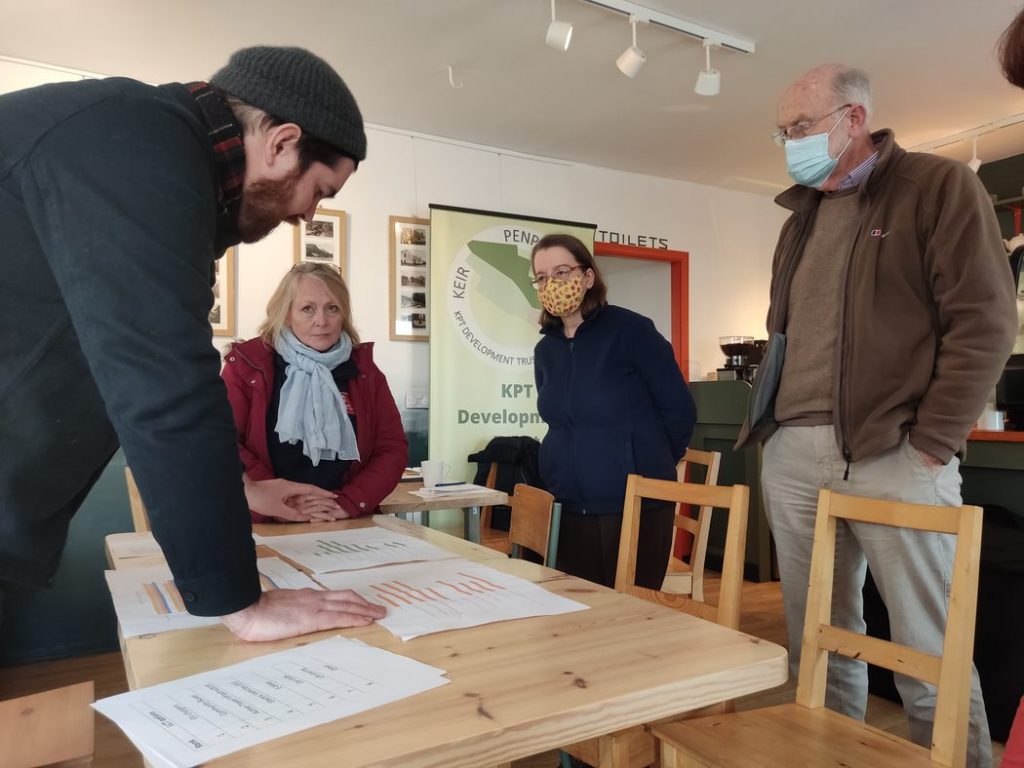 Re-caffeinated and fully digested of all data, we then got down to brass tacks – namely identifying and prioritising the themes that we intend to explore over the course of our event series. This was an arduous process that saw us initially divide into two groups before coalescing to find consensus within the chaos. Without too much compromise, we eventually found a natural order that best represented the interests of all involved parties. Satisfied with the outcome of our consensus building, we drew a close to our morning session and declared a break for lunch – a hearty root vegetable stew with homemade cornbread lovingly prepared by our generous hosts. Yum!
Part 2
Following lunch, Maureen Halkertt, chair of the KPTDT, provided us with an overview of the proposed active travel path that, when completed, will eventually join the village of Penpont with neighbouring Thornhill. Presently, Thornhill is only accessible by narrow country road and is plagued by fast-moving cars and heavy agricultural vehicles; the likes of which makes it unpleasant and, in some cases, too hazardous to navigate by active means. A segregated path of appropriate construction would mean that children as young as 12 could walk or wheel to secondary school unsupervised and with relative ease.
Another of KPT's board members, Sue King Smith, told us about her involvement in the development of a micro-hydro generation site for the village. Initial feasibility studies suggested that a micro-hydro would not be viable; however, local knowledge prevailed and, contrary to official records, the direction of flow further upstream of the Marr burn meant that there was sufficient fall to generate enough electricity to power the equivalent of 30 homes. The site also houses a modest sensory garden consisting of aromatic herbs and even some connectivity for a potential electric vehicle charging site.
Next, KPT development officer Senga Greenwood spoke about her experience of procuring a fleet of eight electric bikes and one electric cargo bike for use by both community members and visitors alike. Given the disparate nature of KPT's remit, finding a way in which communal assets can be shared equitably throughout the community was no easy task; however, with the express consent of all three villages, Senga arrived at a solution in which a single point of distribution would be situated in Penpont, which happens to be the largest and most central of the three villages.
Due to launch over the Easter period, the e-bike scheme will be freely accessible to all local residents for the first six months. It is hoped that beyond this initial period, the program will generate enough revenue to achieve financial stability and be fiscally self-sustaining within its first year of operation. The program will also provide local employment opportunities in the form of custodial and maintenance roles, who will themselves receive support and training to become certified in e-bike servicing and repairs.
Finally, we ventured to the other side of the village to inspect a new community growing space. Once the tennis court of a nearby estate, the site had been disused for a number of decades and become overgrown before it was generously offered up by the local laird for use by the community. The modest 3/4 of an acre site sits nestled on the banks of the Scaur water. Plans exist to erect raised beds and polytunnels to facilitate skills sharing and knowledge exchange with a view of building a resilient local community with the necessary resources to make healthier, more cost effective choices with regards to food, whilst also providing a safe and inviting space in which to congregate.
In an attempt to connect the theme of community growing with transport, I proposed another new activity – this one called simply "food miles". I had brought with me a selection of five vegetables that I'd purchased from my local supermarket, all of which could potentially be grown in Scotland given the right conditions and seasonality, and tasked participants with guessing the country of origin of each item. Spring onions? Egypt. Garlic? Spain. Spinach? Italy. Squash? South Africa! Even the act of driving to the shops is perhaps made redundant given the ability to grow fresh produce within a walking distance of your own home; and while ¾ of an acre might not feed an entire village, community growing spaces are instrumental in bridging existing skills gaps and reconnecting people with the simple act of growing.
On that note we trundled back to the Three Villages Café for some final reflections before bidding farewell and parting ways. Until next time!
Liam Templeton, N76 EiM Project Officer @CES
---
At Community Energy Scotland we value our team's and communities' opinions. Blogs are a chance for us, our members and guests to share personal opinions and expertise, and do not necessarily reflect the views of Community Energy Scotland as an organisation. Please note opinions may change and Community Energy Scotland does not offer any endorsements.