On a windy, rainy and downright Scottish November morning, the N76 in Motion group and guests set off on a learning visit to two community-driven transport projects in Dumfries & Galloway and the Scottish Borders.
Our first stop was in Beattock, where Ron from Beattock Station Action Group showed us the proposed sites for Beattock railway station and explained their long-standing and community-backed campaign for improved rail links with the central belt and elsewhere in Scotland. The campaign for a station at Beattock mirrors a similar issue in the N76 area, where community members are attempting to have the station at Thornhill reopened. Both Beattock and Thornhill are located on railway lines, but are more than 10 miles away from their closest stations. This makes it difficult for community members to travel further afield without relying on car ownership. Ron gave us some great insight into the work that has gone into the decade-long campaign for Beattock station and was happy to answer questions from our enthusiastic group. You can learn more about the campaign at Beattock Station Action Group | Keeping up to date with the plan to re-open Beattock Station.
The group refuelled at the famous Brodies of Moffat, where we were joined by Vicky from Annandale Community Transport Service. Good discussions were had with Vicky, as well as Selina from Third Sector Dumfries and Galloway and Stephen from Cairn Valley Community Transport, who joined us on the trip. It was a great experience to get everyone together and talk about something we are all invested in: Improving low-carbon transport options for the community. And after the long bus journey, the excellent food was particularly welcome.
Refreshed and energised, we set off into the hills past Grey Mare's Tail waterfall, which was in full torrent. Our final destination was the old Ettrick primary school in the Scottish Borders, which is now the home of Ettrick & Yarrow Community Development Company. EYCDC is a development trust like the N76 partners, with a similar interest in low-carbon transport options. Key to this effort are the e-bikes, which locals and holidaymakers can rent for transport and recreation around Ettrick. EYCDC made sure to purchase e-bikes that can cope with the hilly local terrain and forest tracks, making them great all-rounders.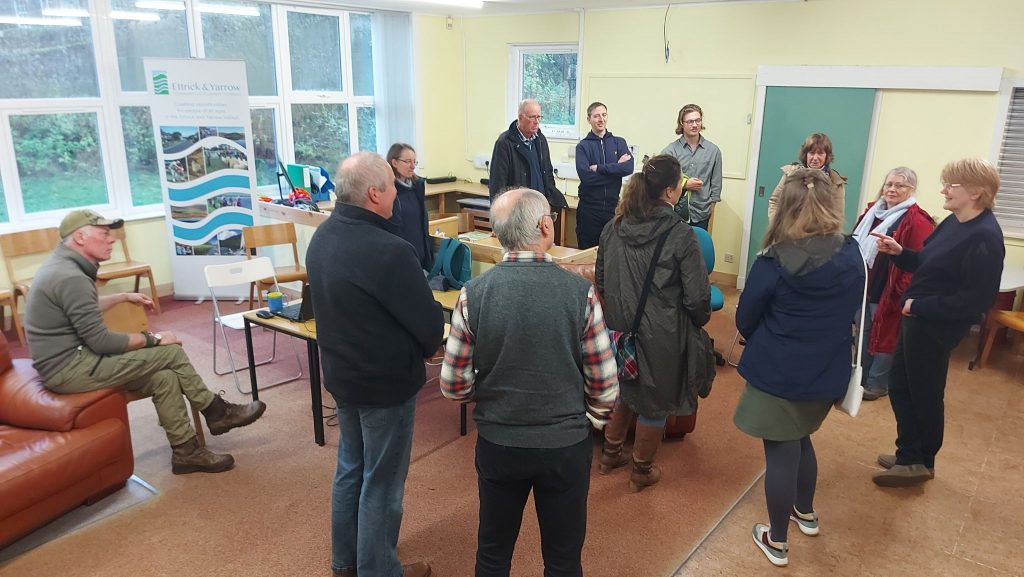 Other exciting projects include the electric car and charging point, used for business activities as well as for helping the local community. The development trusts were also eager to hear about the conversion of a farmstead into sustainable, affordable housing and business units, which are almost ready for their new occupants. And, perhaps more suited to visiting on a sunny day, EYCDC has developed a path encircling St Mary's Loch – the organisation's first major project, completed in 2015. To learn more about these and other projects, visit Projects (ettrickandyarrow.org.uk).
Our day concluded with a discussion on the many links between N76 partner projects and those of EYCDC, as well as some Q&A on their many projects. We enjoyed the cosy log burner for a little longer before climbing into the minibus and setting off home.
As part of the N76 project, we are running learning and networking events throughout the year including our visit to Beattock and EYCDC. Over the next few months, other events will be announced based on specific aspects of low-carbon transport that interest the N76 partners. These events are open to the public and there are a mixture of in-person and online formats. To keep up with the N76 project and sign up to our events, follow us on Facebook and Twitter.