For the last two years, in addition to his regular role, CES' Benny Talbot has been inputting to the RIIO ED2 process for deciding how our energy networks are invested in. Below he reflects on
the process, and the likely changes ahead.
What is RIIO and why does it matter?
RIIO was created as a way to agree 5 year investment plans between Ofgem (the energy system regulator) and the Distribution Network Operators (DNOs) who own the network. This is needed for two main reasons. Firstly, because DNOs are sole network owners and operators in a given area, overseen by the regulator, Ofgem, which aims to create economic competition, ensuring that existing and future consumers pay a fair price for the cost of running these networks and get the services they require – the DNOs must balance this with the need to ensure the UK remains internationally competitive to shareholder investment; and secondly because ownership of the UK distribution network is divided between 14 regions, owned by 6 separate companies, so RIIO is there to help Ofgem set common standards for investments and standards of service across the whole of the UK.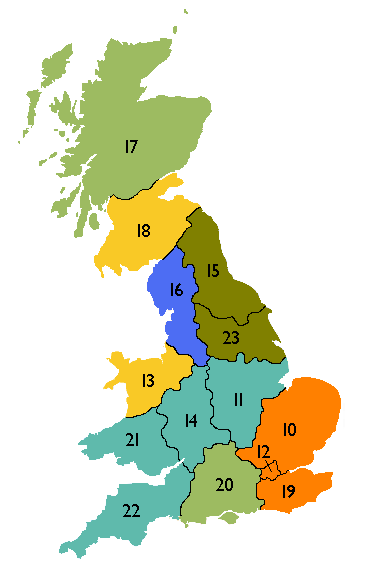 While in practice RIIO is a long and complicated process, the essence of it is quite simple – first Ofgem sets out its expectations, then each DNO draws up and costs an investment plan to meet those expectations, and finally Ofgem reviews the plans and makes a decision on which parts of the plans to OK, and which to challenge or reject. All investment agreed upon is ultimately charged by the DNOs to energy consumers via their bills, plus a regulated profit margin.
However, the Climate Crisis has transformed RIIO from a complex but routine budgeting excise for maintaining the grid, into a key strategic forum to ensure we can achieve net zero, due to the massive strategic investment now needed to enable the grid to support the electrification of heat and transport, and the continued expansion of renewables.
This has also placed a dilemma at the heart of the RIIO process. Keeping investment as low as possible would mitigate the already spiralling cost of living crisis, but exacerbate the very real risk that constraints on the electricity network prevent or delay effective climate action. A better way forwards would be to pay for strategic investment in our networks via progressive taxation, not energy bills – but that decision is rests with the government. Until then, Ofgem is forced to navigate between two competing demands: fuel poverty, or climate action?
The RIIO process is struggling to evolve to meet these new tensions. In particular, given the rapid changes we are seeing in climate plans, targets, and the technology evolving to help meet these needs, the 5 year planning cycles of RIIO are beginning to look increasingly clunky. Instead, an increasing number of ad hoc 'uncertainty mechanisms' are being proposed to allow decision making within the 5 year periods. However, the devil will be in the detail of these new uncertainty mechanisms, and it remains to be seen whether they will be able to reach the right decisions, decide fast enough, or enable meaningful consultation with energy system users.
'DSO' and the implications for Community Energy
My role in all of this was as a member of the Consumer Engagement Group (CEG) for the SP Energy Networks (SPEN) region (the SP Energy Networks region covers southern Scotland, northern Wales and Merseyside). Over the course of the last two years, as SPEN developed their plan, they were to provide us with regular updates and the CEG was tasked with challenging SPEN's plans to ensure that the needs and preferences of the energy system's users were being taken into account. The CEG then wrote our own report on SPEN's plan, to help Ofgem make its final decision.
Within the CEG, I led on responding to SPEN's 'DSO' plans. DSO stands for Distribution System Operator, and describes a change in how networks could operate, in order to free up significant extra capacity. The basic idea is that instead of running a 'fit and forget' system, with enough spare capacity to ride out even the largest expected surges in demand or generation, DNOs could use modern digital technology to monitor and control power flows in real time. Much more demand and generation could then be connected to the existing wires, because the DNO would be confident that when the occasional surge in generation or demand arrived they could detect it and respond in real time (eg. by temporarily turning down some loads or generators) and keep the network safe. While there is no way to avoid the need for massive new investment in the network to enable net zero, DSO could reduce these costs and free up network capacity faster than would otherwise be possible.
However for DSO to really succeed, there will need to be a change in how we as energy users relate to the network. This is beginning to be seen as a need for 'democratisation' of the network, with energy users becoming more important and active participants – and also an opportunity for customers to earn money by providing 'flexibility' services to the DNO, in turning energy use or generation up and down to help manage network constraints. Of course, sharing more data on our energy use and installing new smart technology also comes with risks. Foremost among these are a loss of privacy, increasingly complex electricity bills, and/or those who are less tech savvy being left behind, ending up with systems they don't understand and paying more for their energy.
Community energy groups, as local trusted intermediaries, should have a key role in bringing people together to navigate this new system, and support those who will otherwise be left behind. Meanwhile DSO could also open up new opportunities for community-led local energy projects, for example where groups bring together local energy users or generators to contract with their DNO and collectively deliver 'flexibility' services to the network.
SPEN's RIIO ED2 DSO plans contain significant commitments, including; to roll out network monitoring and real time control via 'CMZ' zones (which can include Active Network Management) across around half of their network by 2028; to provide 80% of new generators with a flexible connection option alongside their standard connection offer; and adopt an 'assumed open' process for the data they collect, sharing it via an online hub.
Among other issues, I challenged SPEN on how well they were able to consult on their DSO plans given the complexity of this new field, to provide much more specific commitments on what network data they will share, and to give meaningful consideration to where supporting domestic energy efficiency could be used as an alternative to network reinforcement. SPEN now propose to set up an independent panel to ensure that customers and stakeholders' needs are represented as the DSO rollout continues, and have fleshed out their proposals for data sharing to include real time data and impending curtailment forecasts on ANM networks to enable curtailment trading – data that community generators on Orkney (in the SSEN rather than SPEN zone) have been requesting for the last 5 years.
Challenges from me and colleagues in the CEG also played a key role in SPEN deciding to publish a Just Transition Strategy and a Community Energy Strategy for the first time, both of which SPEN now propose to maintain and update regularly. I was impressed at how SPEN staff took forward these issues, recognising the significant role that community groups could play, and coming forwards with proposals significantly beyond the baseline required by Ofgem, including proposing a £30 million Net Zero fund (of which 25% would be ring fenced for support of community energy), and to provide dedicated community energy advice, awareness raising and technical support services, as well as support to local authorities in making Local Area Energy Plans.
Some key outstanding questions remain. Firstly, whether (and how) SPEN and other DNOs will recognise the potential for domestic energy efficiency upgrades to be used as an alternative to reinforcing the network. Secondly, how far DSO should be run as a separate entity to the DNO to avoid conflicts of interest – SPEN haven't gone as far in separating the two as some UKPN, for example. Finally, it remains to be seen both exactly how much extra capacity DSO will free up, how cheaply, and how fast new capacity will actually be needed in the network; but the crucial mechanisms for monitoring its effectiveness, and scaling DSO and traditional network investment accordingly are not yet entirely clear.
SPEN's RIIO ED2 plan and their DSO plan have now been published and can be viewed online, as can the CEG's report on these plans to Ofgem. Ofgem will hold an open hearing on SPENs plan on 24th March, which is open to the public to attend, and expect to make final determinations on all plans this winter. The RIIO ED2 plans will then guide network investment from 2023 to 2028.
Benny Talbot, Innovation Development Manager @CES
---
At Community Energy Scotland we value our team's and communities' opinions. Blogs are a chance for us, our members and guests to share personal opinions and expertise, and do not necessarily reflect the views of Community Energy Scotland as an organisation. Please note opinions may change and Community Energy Scotland does not offer any endorsements.