Outer Hebrides Local Energy Hub: Sustainable and competitive options to increase resilience of remote businesses.
The project is taking place on the Isle of Lewis across two sites – a waste management facility and a fish hatchery – demonstrating a circular energy economy that will have relevance and learning for other projects.
Waste Management Facility
The Creed Integrated Waste Management Facility (IWMF), located just outside Stornoway, Isle of Lewis, is owned and operated by Comhairle nan Eilean Siar (CnES), the Local Authority for the Western Isles. Current features of the site include an anaerobic digester (AD), combined heat and power plant (CHP), electric boiler and thermal store, a wind turbine and a hydrogen system comprising electrolyser, storage and refuelling station.
Fish Hatchery
The Scottish Salmon Company (SSC) owns and operates four hatcheries, 12 marine fish farms and one processing facility on the Island of Lewis and Harris. The salmon hatchery at Barvas, Isle of Lewis, will be the main focus of this project, although fish waste from all SSC sites in Lewis and Harris will be able to be deposited at the Creed IWMF.

OHLEH intends to integrate fish waste along with household and garden waste anaerobic digestion at Creed IWMF. In managing fish waste in this way rather than sending it all to landfill, OHLEH will have a positive impact both environmentally and economically.
Biogas produced from the waste in the AD is used to fuel the existing on-site CHP. Some of the electricity generated by the CHP is sent to a hydrogen system to produce hydrogen and oxygen. The system will also make use of some of the electricity from the wind turbine on site, which is often subject to curtailment due to grid constraints. In this way, OHLEH maximises the use of existing assets.
Both hydrogen and oxygen are captured, compressed and delivered to the hatchery for local use. Oxygenation is essential to aquaculture, and hydrogen will be used in a small fuel cell which will provide electricity to the site. Energy and oxygen can both be seen as critical supplies. OHLEH opens a route for sustainable and competitive options to increase resilience of remote businesses.
The hydrogen system at Creed includes a refuelling station, and some of the hydrogen will be used to refill a dual-fuel Refuse Collection Vehicle (RCV) operating on hydrogen/diesel. The RCV will be used to collect local waste, part of which ends in the biogas production system.
Most of the equipment for this project is already installed; essentially OHLEH looks at how to link the existing assets together, leading to the creation of a circular and innovative local energy economy.
Technical Information
Wind turbine
300kW
Grid connection limited to 225kW
Anaerobic digester
Capacity: 960m3
Production: Between 60m3 and 80m3 per day (as a general average)
Expected biogas yield
448,412m3/year (mix fish/domestic waste)
CHP
240kW electrical and 370kW heat output
Minimum combusting 80Nm3/h of biogas
(c. 48Nm3 of Methane)
Annual operating hours expected to reach 4990h
Hydrogen system
Alkaline electrolyser, 30kW – 5.3Nm3/h – 0.45kg/h
350bar compression, storage and refuelling equipment
Refuse Collection Vehicle
5kg of Hydrogen
Stored at 350bar
Fuel cell
5kW
Our Partners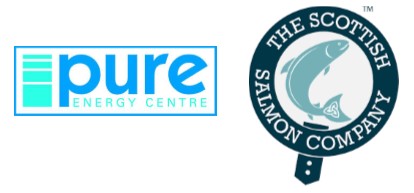 Supported by
Project Funders