The report, produced by Community Energy England, Community Energy Wales and Community Energy Scotland, and launched today, illustrates the progress of community energy in the UK in 2020. The ambitions and importance of community energy provide an additional important focus.
Written by our colleagues in Regen, from data contributed by a total of 424 community organisations, the report provides evidence-based recommendations to policy-makers and stakeholders on how the sector can meet its potential. It contains information aimed to help drive a committed and supportive wider environment in which community energy groups can thrive and further contribute to local economies and significant decarbonisation for the greater good.
This is the first year Scottish groups have taken part in the report and we are most grateful to the 72 Scottish community energy organisations that contributed their time and information to make this possible. We are delighted to confirm that Scotland demonstrates particularly strong power generation activity per capita, chiefly via wind and hydro power.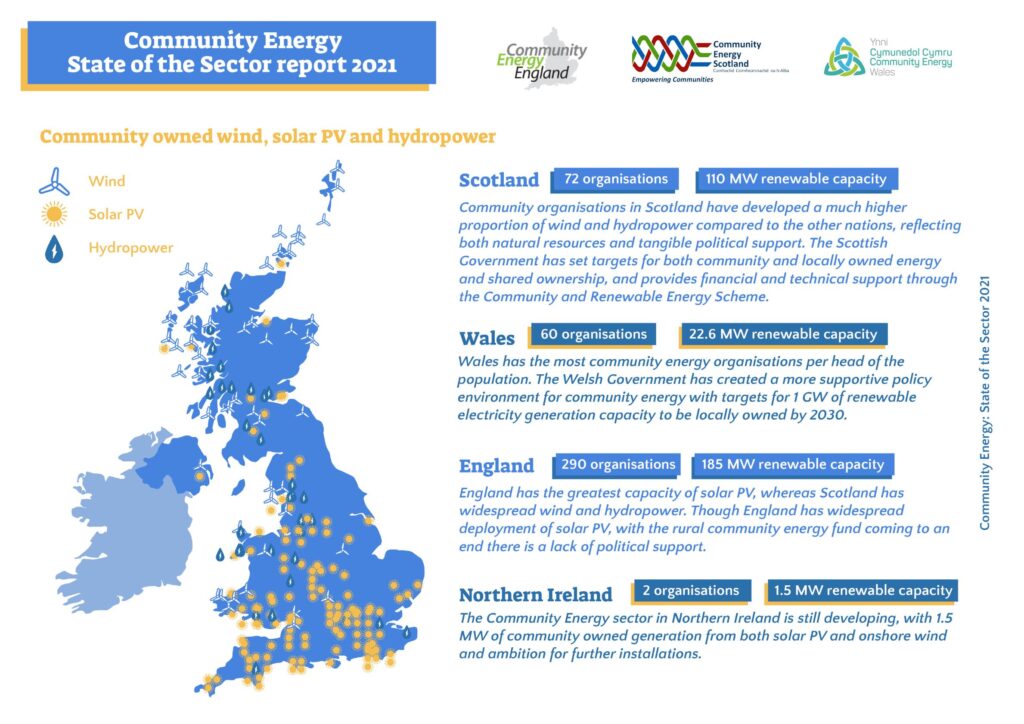 Located in the Outer Hebrides, Point and Sandwick's community owned wind farm – the largest community owned windfarm in the UK and generating £900k a year for the local economy – features as a case-study in the report. The report also features an Orkney-based case study from the island of Eday.
In addition to providing information and inspiration for those who read it, this report will add to the collective voice of Scotland's community energy groups in emphasising the undeniable evidence for greater national investment into the sector to build a more resilient nation as we head towards a net zero world.
The report is sponsored by Electricity Northwest, SP Energy Networks and Northern Powergrid.