The latest news from Community Energy Scotland, our social networks, and the wider industry.
Community Energy Scotland Members' Conference Event 2023: The role of communities in delivering fair and inclusive decarbonisation. 
Conference report coming soon!
See event details in our conference announcement link.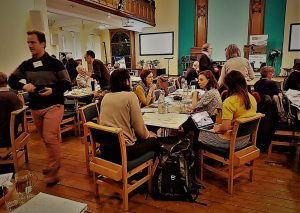 We warmly invite you to our first in-person conference since 2019! Wednesday 27th September, Augustine United Church, Edinburgh, EH1 1EL Overview This free event is being organised by Community Energy Scotland in collaboration with the Community Learning Exchange (Scottish Community Alliance – SCA). The aims of the conference are to: The Programme Afternoon focused groups will cover: We look forward to welcoming everyone to an interesting and valuable day for our members. Everyone is also
Read More »
A first for Community Energy Scotland – we are delighted to announce that the 2021 State of the Sector survey is now live!
Read More »
We the Power is a film (approx. 35 mins) about the citizen-led community-energy movement in Europe and the visionaries lighting the way. The film was created by the Patagonia company. 'We the Power' is also the theme for Community Energy Fortnight, a programme that will run 14 – 27 June – keep a look out on our social media platforms for more information over the coming weeks. Whether your community has already experienced the benefits
Read More »
There are new public charging regulations coming this month which should make it easier to charge an EV in public over the next few years.
Read More »